Creating High-Quality Industrial Product, Safety, & Training Videos
Creating high-quality industrial product, safety, and training videos is crucial for ensuring the success of your company and the safety of your employees. Effective training videos can help employees understand complex processes and procedures, reduce errors, and increase productivity. Safety videos can help prevent workplace accidents and reduce insurance claims. With the right production team, you can create engaging and informative videos that effectively communicate your message to your target audience. Whether you're looking to create product demos, safety training videos, or educational materials, we have the experience and the expertise to help you achieve your goals. Let us help you create a manufacturing product video that will enhance your business and improve your bottom line. 
What We Do
We offer comprehensive media production services, including marketing and training videos, e-commerce websites, photography, animation, and graphic design. Our production company caters to manufacturing and industrial clients, with experience serving markets such as electrical wire and cable, aerospace and defense, software development, and product manufacturing. We also have experience in the social services industry, creating videos that promote health, recovery, and related issues.
Video Gallery
HR Video

Attract new employees with an inviting HR video for your website and social media.

Watch video

Oil & Gas Cables

RSCC, now Marmon Industrial Energy & Infrastructure, showcasing offshore cables.

Watch video

Treatment Center

Services video for Eric Clapton's Crossroads Treatment Center in Antigua.

Watch video
Mobile Studio
Our mobile studio offers a convenient and efficient solution for clients who require speedy video production. We can reach any destination in the eastern US within 2-3 days from our Northeastern base. This eliminates the hassle and cost associated with transporting equipment by air, and the risk of arriving on location with equipment still in transit. Regardless of where we produce your program, be it in our mobile studio or our home base, we guarantee a high-quality, professional program delivered within your time and budget constraints.
Mobile Studio

Fully rigged mobile edit suite.

Final Cut, Davinci Resolve, Photoshop

We can upload your finished video from here.
Product Photography
Our photography services encompass product photography, headshots, and facility shots to help your business visually communicate with your target audience. We specialize in capturing high-quality images of your products and facilities, which can be used on your website, social media platforms, and marketing materials. Our headshot photography can enhance your professional image and make a great first impression for potential clients and partners.
Client Testimonials
Marmon Utility - Milford, New Hampshire

Virtual Plant & Capabilities Tour used by salespersons in the field.

"Mattingly Graphics was absolutely amazing to work with on our Virtual Plant Tour project. Jim Mattingly did a tremendous job synchronizing the video and the voice-over sections. The final output was of world class quality. The project required extensive shooting and a significant degree of coordination to get right. In addition to the basics, Jim produced excellent graphics in the video and he went out of his way to provide extra video footage that really enhanced the value. His attention to detail and his creativity brought this whole project to a great conclusion." Scott Rowles, Regional Sales Manager
Comtran Corp, Attleboro, MA

Words cannot express my gratitude for all of your efforts in the creation of the Comtran shipboard assemblies video! From script and screen suggestions, to on-location shoots, to the countless hours of editing, all of which were done with patience and a smile. Thanks for teaching me so much about the process. The final product turned out very well and the videos were well received at the AFCEA show.

Amy Gee, Product Manager, Comtran Corp

Marmon Engineered Wire & Cable, Hartford, CT

VitaLINK Cable video, and numerous video and internet projects over many years as client.

Jim, it is a pleasure to work with a true professional as yourself. We have done some unique things and it looks like we may just be scratching the surface of what is possible. There will be many more projects and opportunities that I look forward to working with you on. Thanks for your hard work on this project. From what I'm hearing, it is a great draw in Vegas and will get plenty of play time around the globe. It's a production and breakthrough you should be very proud of.

Dennis Chalk, President, Marmon Engineered Wire & Cable

(Note: company is now Marmon Industrial Energy and Infrastructure under new president).
Kerite Cable, Seymour, CT

Numerous video projects including plant capabilities tour, plant safety video, and continuous improvement training videos for Marmon through CI-CG.

Jim, it is a pleasure working with you. Of the many projects that Marmon is involved in, I have to say that filming with you and Pete is my favorite. I believe we all work very well with each other. I agree that we have become family. You trusted Pete and I to assist you during filming and we took pride in the role. We learned a lot from working closely with you and how you treated us had everything to do with the fun we had throughout these projects. I look forward to working with you again. Take care and please don't hesitate to reach out if there is anything we can do for you.

Thanks again Jim!

Edwin, 5S Facilitator

_____________

I will echo Edwin here - Jim, it is always GREAT working with you! I really enjoy setting up the scenes and getting the right shots. Its always a blast and the final products you pump out are amazing. I look forward to working with you many more times in the future.

Peter Kuzmich
Some Of The Many Companies We've Done Work For -
Serving businesses since 1987.
Printing
We have had the pleasure of providing additional services to our clients by offering a range of large format graphic design and printing services. This includes custom lobby wallpaper, framed artwork, and inspirational / safety posters and banners, which have been widely displayed in several of our client's facilities.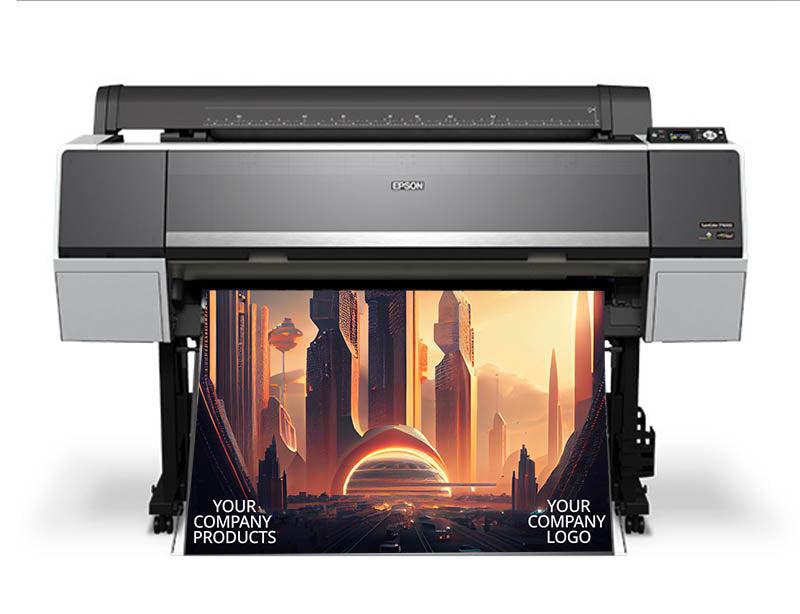 Wide Format Printing
If you require creative and professional printing and framing services, or custom lobby full-wall graphics on wallpaper, please do not hesitate to contact us.
See Video